WINTER OLYMPICS: A Tale of Two Countries

---

Stephen Seiler, Faculty of Health and Sport, Agder College, Kristiansand, Norway.
Sportscience News Mar-Apr 1998
http://www.sportsci.org/news/news9803/olympics.html

At Nagano, Norway won 25 medals, 10 of which were gold. Sweden won three, of which none were gold. Norway's influx of economic support for hosting the 1994 Olympics in Lillehammer and a highly centralized sport development program may explain the differences in Olympic success of these two Scandinavian neighbors.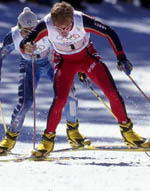 Norway's Bjorn Daehlie

Here in Scandinavia, one of the great sports rivalries over the decades has been waged on ice and snow by the athletes of Norway and Sweden. In the broad perspective, this war has been rather even, with both countries producing dominant teams and athletes through the years. But in the 90s, it has been all Norway, almost embarrassingly so. In the 1992, 1994 and 1998 Winter Olympics, Norway won a total of 71 medals, including 29 golds. Sweden? 10 medals total, including only two gold (1992 and 1994). Why has this once great rivalry become the haves versus the have-nots in the 90s? Sweden wants to reverse the problem, while Norway wants to avoid Sweden's fate in the next decade. I'll give a brief overview of Norwegian winter sports history and then look at changes that may explain the sudden embarrassment of riches in Norwegian Olympic sport.

The Road to OlympiaToppen

From the 1924 Winter Olympics in Chamanoix to the 1952 Winter games in Oslo, Norway was dominant by virtue of tradition, not training. Norway considered itself the birthplace of skiing. Then along came the Soviet Union and the German Democratic Republic, and Norway's amateurish approach to sport was no match for the systematic training and emerging sports science programs of these other nations. The flood of medals was quickly reduced to a relative trickle in 1956. Then in 1969, the Norwegian College of Sport was founded; and a basis for a more scientific, systematic approach to sports performance was formed. Norway competed well in winter sport through the 70s and early 80s, but participation remained the politically correct word, not winning. Then came Calgary in 1988 and collective Norwegian political will changed dramatically. It was the most dismal Olympics on record from a Norwegian point of view with not a single gold medal and a meager 5 medals in all. The Norwegian government decided that their athletes would not only be given the chance to participate, but they would also have a chance to win. OlympiaToppen was born. In fairness, The German and Russian sports machines have weakened since then due to political upheaval, to Norway's competitive advantage, but they remain powerful forces in winter sport. The more relevant comparison is with Sweden, Norway's next door neighbor with a population of 8 million and a similar passion for winter sport. Where do Sweden and Norway differ?

Recruitment

Sweden is no slouch on the international sports scene; but in recent years, the most popular sports in Sweden have changed from endurance-oriented outdoor sports like cross country skiing to indoor or warmer-weather sports such as tennis, handball, golf, soccer, and swimming, all sports where this country of 8 million has enjoyed significant international success. Swedish sports experts have argued that the proliferation of indoor sports training halls and arenas has served to pull athletes out of the cold and into the warm, literally. The result is a smaller recruiting base in those traditional winter sports such as speed skating, cross country skiing and ski jumping that remain, primarily, outdoor events. It could also be argued that urbanization is bad for winter sport performance. Many of Norway's winter sports heroes are developed in small, isolated towns where being outside and active forms a good starting point for the development of future skiers, ski jumpers and speed skaters.

Economic Doping

International sports success may well be a strong reflection of the economic vigor of a country. During the 80s, while the Norwegian economy was down and unemployment was double digit, there were few international sports highlights to shout about. Economic conditions turned around when Lillehammer was awarded the Winter Olympics for 1994, and a huge bolus of federal money was infused into Norwegian elite sport. The investment payed off in 1994 as Norwegian athletes topped the national medal count on home ground. The momentum carried over into 1998; many of the same athletes won medals in Nagano. Meanwhile, Sweden is struggling with high unemployment and a weaker financial base from which to carry on the expensive business of developing world class athletes. Has Norway been guilty of economic doping? Yes, but this type of crash pre-Olympic funding program has characterized most Olympic host nations in the last 20 years.

The overall contribution of public funding to elite sport in Norway is actually quite small relative to corporate sponsorship dollars. In fact, the chief of the Norwegian Top Sport program has made a plea for more direct government support to the tune of 100 million Norwegian kroner or about 15 million dollars a year. Presently, the direct federal contribution to Top Sport in Norway is less than one million dollars annually. With this increased level of federal support, he claims that Norway could become the best sports nation in Europe by 2006, based on Olympic sports performance. This plea came in response to the fact that Scandinavian neighbor Denmark's top sport program, Team Denmark, receives the equivalent of 15 million US dollars per year from the government. Meanwhile, sport at the grass roots, developmental level is primarily supported by a strong tradition of voluntary labor, local sponsorship monies, and a percentage of profits from legalized, lotto-style sports betting on professional soccer. Betting provides about 35 million dollars per year in money which goes into the Norwegian Sports Federation and is then distributed to the different single sports federations in proportion to membership.
Winter Olympics Medal Count 1998-1924

Year

98

94

92

88

84

80

76

72

68

64

60

56

52

48

36

32

28

24

Norway

25

26

20

5

9

10

7

12

14

15

6

4

16

10

15

10

16

16

Sweden

3

3

4

6

8

4

2

5

8

7

7

10

4

10

7

3

5

1
Centralization of Resources
Tiny countries like Norway (population 4.3 million) are hard pressed to find athletes that can beat the best the world has to offer. Therefore, organization and support is critical to the development of these limited talent resources. In response to the dismal Olympic results of 1984 and 1988, and in anticipation of hosting the 1994 Games, the different Norwegian Sport federations combined to form an elite arm called "OlympiaToppen." OlympiaToppen was designed to to be the "best of the best," bringing the best athletes together with the best of trainers, medical support and sports science via a centralization of resources. In addition, the organization of Olympia Toppen stressed "cross-talk" among coaches, doctors and scientists independent of sport. This centralized, high performance focused development program hasn't gone uncriticized, but it's difficult to argue with the overall success. One criticism is that pulling top athletes out of their local clubs and under the wing of the Top Sport program hurts grass roots programs by demoralizing local coaches and weakening regional athlete development. Finding the right balance between broad sport and elite sport remains a major challenge. However, in a country as small as Norway, combining and centralizing resources does make sense. And it's on the organizational front that Sweden and other countries pursue information about Norwegian methods most vigorously.
Spillover Effects
The down sides? One is the extremely uneven gender distribution of medals. In Nagano, Norway took home 10 gold medals, all by male athletes. In Lillehammer, only one of the 10 golds was won by a female. Comparing Norway with Germany, Russia and the US exemplifies the failure of Norwegian top sport to compete on equal terms on both sides of the gender gap. The reasons are not clear. Women's sport participation is strongly accepted in Norwegian society. Indeed two of the early flag bearers for the acceptance of elite women's sport on the international level were Grete Waitz and Ingrid Kristiansen of Norway. Women's sport enjoys more even media coverage in Norway than in for example, the US. Still, the Norwegian investment in international sports development in the 90s has only served to widen the gender gap in performance. The best trainers tend to pursue training jobs on mens teams. And unlike the US, Norway has not succeeded in developing top female trainers to coach females. It's also possible that the high performance criteria established by OlympiaToppen for participation in the Olympics may strangle development of female athletes.
A second downside is that with this centralized organizational structure, the successful sports become more so, while the unsuccessful tend to fade away. There are many Olympic Sports, even winter ones such as the luge and bobsled, in which Norway does not do well. These sports will tend to remain underachievers due to the performance criteria on which economic, coaching, and research support is based.
A third downside of the Norwegian Olympic success may well be that it promotes the frightening trend that Norway is becoming a population of spectators, cheering on the chosen few. While this description already fits countries like the United States, it would be a bitter pill to swallow for Norway; and Sweden may ultimately have the last laugh as they have emphasized sport for the masses in recent decades. This approach hurts medal counts but may be good for the collective national health in decades to come.
From a research perspective, a final downside is the failure to achieve a higher number of international publications in sports science. Here Sweden comes out way ahead. On paper, the Norwegian system should be a gold mine for sports science research because the Top Sport program and large numbers of elite athletes are physically "next door" to the Norwegian University of Sport. Norwegian sport science is active with a substantial volume of completed masters and PhD studies involving elite sports performance, training, and testing methodology. Unfortunately, much of the enormous volume of data collected from longitudinal studies of altitude training effects or overtraining, for example, remains "in house." This may be due more to a lack of tradition and mandate for international publication by those working closest with the elite athletes than a desire to be secretive. Either way, it is an unfortunate silence for the global sport science community.
So, all in all, the Norwegian model for elite sports development has worked... half-way.
Data sources:
Nagano Olympics--Medal count. http://www.winter-games98.com/medalcount/index.shtml
Britannica Sporting Record: The Winter Games. http://winter.eb.com/winter/menus/ind_record.html
---
newseditor=AT=sportsci.org · webmaster=AT=sportsci.org · Homepage · Copyright ©1998
Edited by Mary Ann Wallace · Webmastered by Jason Nugent and Mary Ann Wallace
Last updated 8 March 98