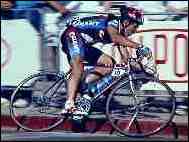 NEW at This Site. The low-down on nasal strips; making posters; making Web pages; finding sport images; a search engine for email-list messages; all these news articles; more...


Blood Testing for Professional Cyclists. Hard data for the fight against EPO abuse, from David Martin and colleagues at the Australian Institute of Sport.


Speedskaters Get New Skates. Stephen Seiler discusses the development of the new Dutch "slapskates". Will they lead to new world records?



by Frank I. Katch
Claude Bernard (1813-1878), one of the greatest experimental physiologists of all time, made crucial discoveries that impacted medicine, nutrition, and exercise science.



by Louise Burke
Nutrition News from the Netherlands: an information-packed one-day sports nutrition meeting in Maastricht, plus an interesting doctoral defense.



by Ken Daley. Index/home
Two new newsletters! Read the last entry of MT #12 for access to unpublished military reports on sport and exercise science. MT #13 features... us! And much more.


The European College of Sports Science. Stephen cameos this new organization and previews their 2nd Annual Congress in Copenhagen this August.


Organization of the Sportscience team. Stephen Seiler and Will Hopkins explain the responsibilities of the team of 20+.



Instructions and template for writing an article in Sportscience News.
---
Back issue: Jan-Feb
---